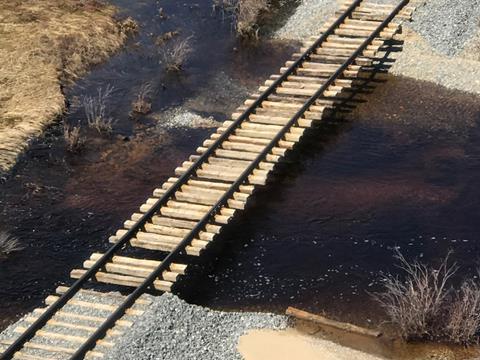 CANADA: Talks for the sale of the 1 300 km Hudson Bay Railway and the Port of Churchill to a consortium including two first nations groups and Fairfax Financial have broken down, the HBR subsidiary of US short line group OmniTRAX announced on July 3.
Freight and VIA Rail passenger services to Churchill have been suspended since a section of the line was seriously damaged by flooding in May 2017. Following legal disputes about responsibility for restoring services, an agreement in principle for the sale of the assets to the consortium was announced by the federal government on May 30 this year. Meanwhile, in June the Canadian Transportation Agency ordered HBR to begin repair works by July 3.
'Over the past several months we have been working with the consortium to finalise the sale', HBR said in a statement. 'Despite our best efforts to find common ground on certain key issues, it now appears that this transaction has fallen apart and that a sale of the HBR to this group may not be possible.'
HBR thanked Fairfax Financial and Grand Chief Dumas for their 'good faith efforts', and said the outcome was unexpected and 'very unfortunate'.
HBR said it would 'continue to pursue any and all opportunities' to sell the assets. It has worked with AECOM to issue a request for proposals for repairing the line, but said without a sale agreement it was not in a position to fund the work, which is estimated to cost C$40m to C$60m.