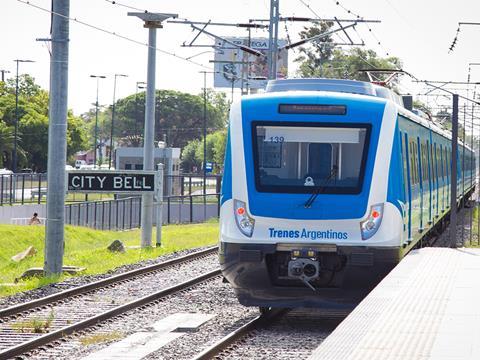 ARGENTINA: The Inter-American Development Bank announced on August 24 that it had approved a U$400m loan to fund electrification of the San Martín commuter route in Buenos Aires, running for 76∙3 km from the Retiro terminus to Pilar.
As well as electrification at 25 kV AC, the programme will include track renewals, resignalling, a new telecommunications system, construction of a rolling stock maintenance facility at Playa de Alianza and refurbishment of Pilar station.

The San Martín route recorded 51 million passenger-journeys in 2016, making it a 'key component' of the Buenos Aires commuter network, says IDB. The replacement of diesel by electric traction is expected to reduce greenhouse gas emissions by between 20% and 25%.

Total project cost is US$522m, including US$122m in local counterpart funds being provided by the federal government. The IDB loan of US$400m has a 25-year term with a 5∙5-year grace period and a LIBOR-based interest rate.