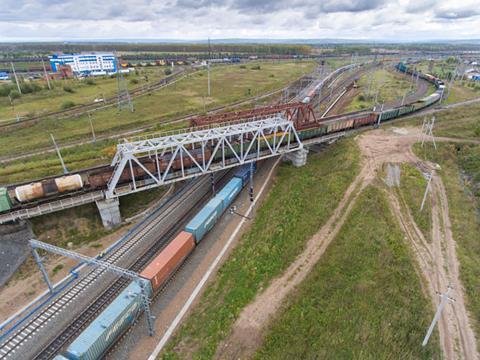 RUSSIA: A programme to increase capacity on the Trans-Siberian and Baikal – Amur Magistral routes is underway, to support the development of coal mines in the Zabaykalsky region as well as the growth in long-distance and transit freight traffic.
According to Russian Railways, capacity on the two routes has already been increased by around a third since 2013.
The programme has been allocated 100bn roubles of federal funding from the National Wealth Fund in 2017-18, as well as 50bn roubles from other sources. The Ministry of Transport and RZD expect to undertake a further 500bn roubles of work in 2019–23.
Tayshet station is being remodelled to increase capacity by 36% under a 8bn rouble project which is scheduled for completion in 2023. A 417 m long bridge built at a cost of 465m roubles over the River Lena near Ust-Kut 737 km east of Tayshet is scheduled to open this year, and the breakthrough is expected shortly for the 6 682 m Baikal Tunnel which SK Most is boring parallel to the existing tunnel 1 007 km east of Tayshet. Seven passing places have been provided on the 521 km Novy Urgal – Komsomolsk-na-Amure section, where Bamstroymehanizatsiya is rebuilding six stations and two bridges, doubling three sections of line and adding three crossing loops.
On the Trans-Siberian route, Bamstroymehanizatsiya has modernised 12 stations and three loops on the 354 km between Volochaevka and Komsomolsk-na-Amure.
In September the Khabarovsk regional parliament decided to seek government support for electrification of the Volochaevka – Komsomolsk-na-Amure – Vanino – Sovetksya Gavan line by 2030, which would further increase capacity between the Khabarovsk area and the ports of Vanino and Sovetskaya Gavan.
| Route | Section | Capacity increase under current works, mpta | Target capacity for 2020, mtpa |
| --- | --- | --- | --- |
| BAM | Tayshet – Tynda (2 348 km) | 11·2 to 14·3 | 24·7 |
| BAM | Tynda – Novy Urgal - Komsomolsk-na-Amure (1 437 km) | 13·8 to 23·2 | 24·6 |
| BAM | Komsomolsk-na-Amure – Vanino – Sovetskaya Gavan (468 km) | 19·3 to 37·1 | 37·1 |
| Trans-Siberian | Tayshet – Bamovskaya (2 758 km) | 68 to 88·8 | 98·5 |
| Trans-Siberian | Bamovskaya – Volochaevka (1 201 km) | 83·8 to 95·8 | 125·7 |
| Trans-Siberian | Volochaevka – Nakhodka | 59·6 to 78·5 | 125·1 |