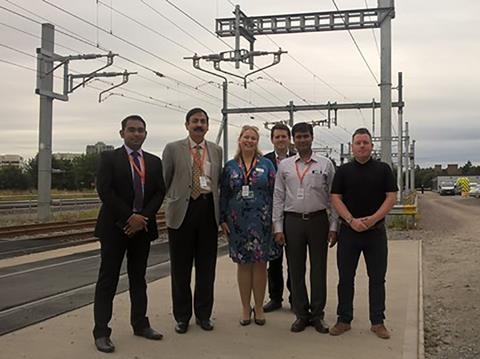 INDIA: As part of a visit to the UK, a delegation from India's Ministry of Railways asked to see infrastructure manager Network Rail's Electrification Training Centre in Swindon to investigate how the techniques being used on the Great Western Electrification Project could be implemented on railway and metro programmes in India.
'We were very keen to see how the rail systems work in England and how modifications to electrification were being made', said Manuj Singhal, Chief Electrical Engineer (Planning) at Delhi Metro Rail Corp. 'The visit was very informative and we particularly learnt a lot about the engineering school and overhead line equipment which we hope to implement on projects in India.'
The £10m training centre includes an isolated section of track with overhead line, providing a safe environment for staff to learn how to install and maintain the equipment. It also hosts a range of courses for apprentices and maintenance and operations staff.
The Indian officials were joined by representatives from Swiss electrification equipment supplier Furrer+Frey, whose UK business is providing equipment for the Great Western Electrification Project.