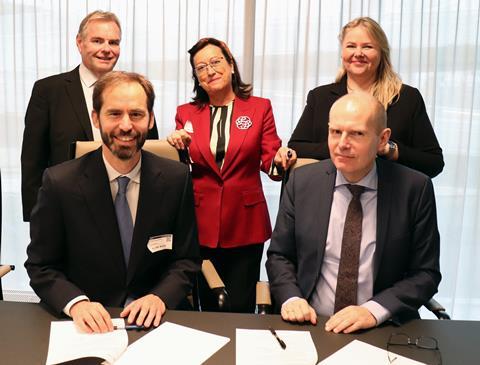 EUROPE: The Norwegian and Spanish infrastructure managers have signed a memorandum of understanding covering the exchange of experiences, mutual training, joint workshops, study visits and technical assistance.
'We have a lot to learn from ADIF in certain areas, for example ERTMS where they have the largest network in Europe', said Bane NOR CEO Gorm Frimannslund on October 14. 'Then there are also areas where Bane NOR has invaluable knowledge, for example tunnel drilling, which they have expressed the wish to learn more about from us.'
Álvaro Mascaraque Sillero of ADIF's International Directorate said the agreement would make it easier to put experts in contact with each other. 'We expect to learn from our Nordic colleagues within several fields', he said. 'Environmental engagement, BIM modelling, how to operate railways in extreme weather conditions, construction of long tunnels and the liberalisation of the railway sector are just a few good examples of areas where we can learn more from Bane NOR'.