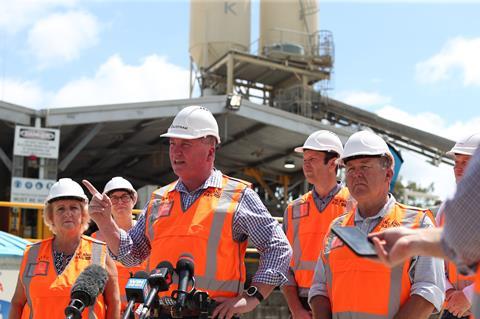 AUSTRALIA: Australian Rail Track Corp has awarded Vossloh's Austrak subsidiary a A$143m contract to supply a further 1·3 million concrete sleepers for the 1 700 km Inland Rail freight corridor linking Melbourne with Brisbane.
The sleepers are to be produced at Austrak's sites in Rockhampton and Wagga Wagga for delivery in 2022-27. They will be used to upgrade existing lines and on new sections of route from Albury in New South Wales through to the northern end of Inland Rail in southern Queensland. The order is expected to provide work for around 95 people, including 30 new positions.
'Australia's largest transport infrastructure project is creating big opportunities for our manufacturers, helping these businesses to grow and hire more Australians, said Deputy Prime Minister and Minister for Infrastructure, Transport & Regional Development Barnaby Joyce when the contract was announced on February 3.
CEO Oliver Schuster added that it was 'one of the largest rail infrastructure contracts in Vossloh's history and the largest order in the Australian market to date.'
Austrak has already supplied 225 000 sleepers for the rebuilding of the Narrabri – North Star line as part of the Inland Rail corridor. In January 2021 ARTC awarded Vossloh Cogifer Australia an A$80m five-year contract to supply turnouts for the project.