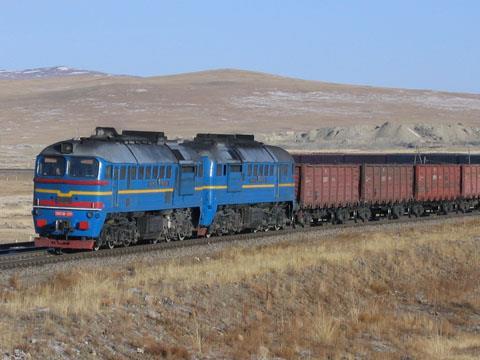 MONGOLIA: Expressions of interest in financing, building and operating a 1 100 km east-west railway have been called by national railway shareholding company MTZ.
The line was approved by parliament last year, and is to be developed in four sections: from Dalanzadgad via Tavan Tolgoi and Tsagaan Suvarga to Saynshand on the Trans-Mongolia route (555 km), from Saynshand to Baruun-Urt (350 km), Baruun-Urt - Khuut (140 km) and Khuut - Choybalsan (150 km).
Meeting end to end, these would provide a corridor through the Gobi desert and eastern Mongolia. Construction is envisaged to take two to three years.
Choybalsan is currently the terminus of a line from Russia. To be built to 1 520 mm gauge, the new corridor will provide Mongolia with an alternative export route for coal and other resources via Russia's far eastern ports, avoiding China.
Separate projects are underway for standard gauge lines running south from Mongolian mines into China.
An agreement for surveying the section from Dalanzagdad to Dzüünbayan, at the end of a short branch from Saynshand, was signed by the Transport Ministry and Russian Railways in October 2009. RZD has a 50% stake in MTZ, and agreed to up to US$250m towards the cost of the new line project.
The World Bank is also proving Mongolia with a US$25m credit to study the infrastructure investments required to support mining and economic development in the southern Gobi region.