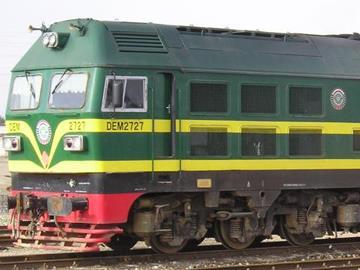 IRAQ: Computer-based train control and digital microwave radio communications networks were handed over to Iraqi Republic Railways during a ceremony at the operations control centre in Baghdad Central station on July 18.
The 'state-of-the-art' system enables dispatchers to control movements throughout the IRR network. The computer-based train control element comprises computers installed on locomotives, a central dispatching office and a digital track database. The new radio network for voice and data communications comprises 33 microwave transmission towers installed between Umm Qasr in the south and Rabiya on the Syrian border.
Commissioning has included training 18 drivers, dispatchers and others to operate the system.
The project was sponsored by the US government to provide increased operational safety for 'a critical part of the Iraqi transportation system', according to Brian McFeeters, US Embassy Acting Assistant Chief of Mission for Assistance Transition.
'Iraq's rail system provides a fundamental capability to engage not only in the domestic movement of passengers and goods, but more importantly, to promote international trade', he said.
IRR has called tenders for the supply of diesel multiple-units.
A feature article on post-conflict reconstruction of Iraq's railways appeared in the March 2004 issue of Railway Gazette International, which subscribers can access in our digital archive.