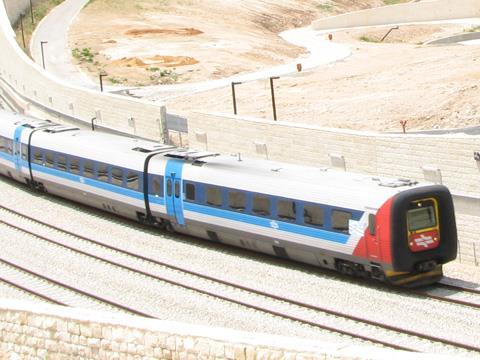 ISRAEL: Plans to develop a rail link to the southern resort of Eilat moved forward on November 22 when Transport Minister Yisrael Katz published a Request for Information to assess the interest and ability of potential private-sector partners in designing, building, financing and operating the line. Responses are due by the end of February.
Katz is promoting the project as part of the Israel Ways programme to develop a network of roads and railway lines covering the entire country from Qiryat-Shemona near the Lebanese border to Eilat on the Red Sea. The plan is priced at US$7·6bn, out of which US$690m has been allocated for planning work.
The ministry has considered six alternative alignments and selected a preferred route through Mount Tzin and the Arava region. This would require construction of a 170 km double-track line, together with 63 bridges totalling 4·5 km, and five tunnels totalling 9·5 km. There would be eight stations at Hatzeva, Sapir (Safire) Centre, Faran, Yahel, Yotveta, Timna, Shekhoret and Eilat.
The line would be served by fast trains covering the 350 km from Tel-Aviv to Eilat in no more than 2½ hours, as well as local trains calling at the intermediate stations. It would also be used for freight traffic, including phosphate, potash and other minerals from the Negev and Dead Sea regions moving to the ports at Ashdod, Haifa, and Eilat, as well as imported cars currently being transported by lorry.
The statutory planning processes are already being undertaken through the District Planning Committee of the Ministry for Internal Affairs, and surveying works along the alignment is expected to start shortly.
According to the Transport Ministry's Economic Planning Department, annual traffic to Eilat is around 8 million trips a year; of this more than 3·5 million could transfer to rail. At present around 2·5 million tonnes of chemicals moves to and from Eilat, requiring 140 000 lorry movements. Katz believes switching freight from road to rail offers many advantages, notably in reducing the number of accidents involving heavy road vehicles and cutting air pollution.
No less significantly, he says the shorter journey times would 'significantly change Israel's social and transportation map, bringing the periphery nearer to the centre.'