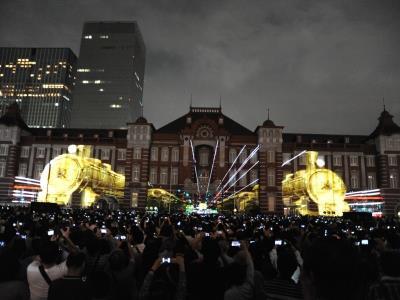 JAPAN: East Japan Railway reopened the historic station building at Tokyo Station on October 1 following a five-year restoration costing ¥50bn. A formal ceremony on September 30 to mark the occasion was cancelled because of an impending typhoon.
One of the Japanese capital's most famous buildings, the 335-m long station designed by Kingo Tatsuno was completed in 1914. It withstood the Great Kanto Earthquake in 1923, but was heavily damaged by bombing in May 1945. The interior was gutted by fire, and the roof collapsed. The structure was subsequently patched up using steel and concrete, and the original domes at each end of the building were replaced by angled roofs.
Served by both the Tokaido and Tohoku Shinkansen and several commuter lines, Tokyo's main station now handles around 380 000 passengers a day.
Restoration of the Gothic building facing the Marunouchi business district included reinstatement of the two domes, plus the construction of a third storey and a new department store annexe, as well as two new basement levels to accommodate equipment rooms and car parking.
More than 400 000 bricks were used in the reconstruction, although the supply of bricks for the final stage of the project was significantly delayed by the Great Tohoku Earthquake on March 11 2011. More than 10 000 pine piles used to secure the foundations against earthquakes were also replaced.
As well as a new ticket office and the enlarged 150-room Station Hotel, the restored building accommodates shops and restaurants, plus a tourist information centre and the Tokyo Station Gallery. Free wi-fi access is provided for passengers. A new elevated walkway will connect the building with JR East's two skyscrapers on the opposite side of the tracks.
The restored building will be lit up each evening from sunset to 21.00, using LED lighting to bathe the brick walls in a soft glow. 'The station is from a period in Japan's history when there was a heightened sense of purpose', said JR East President Tetsuro Tomita. 'We hope it will lift Japan's spirits and those of JR East.'