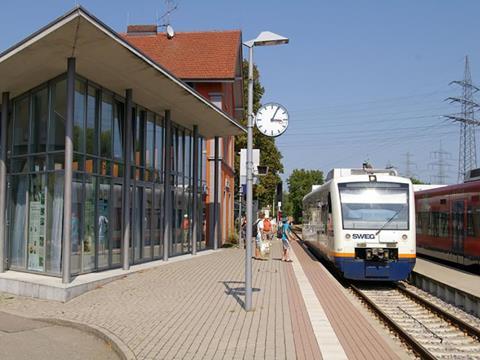 GERMANY: Local rail infrastructure manager SWEG Schienenwege has awarded Powerlines Group a contract to electrify the 37·6 km Kaiserstuhlbahn linking Riegel-Malterdingen with Gottenheim and Breisach to the northwest of Freiburg.
Forming part of the Breisgau-S-Bahn 2020 project, this will enable Kaiserstuhlbahn services to be integrated with the Freiburg – Breisach line which is being electrified under a separate contract and the Höllentalbahn which is already electrified.
The Kaiserstuhlbahn electrification project has been divided into three lots with completion scheduled for December 2018. The scope includes 55 km of Re100 overhead equipment for 15 kV 16·7 Hz, with 18 section insulators and more than 1 400 earthing units. This will require 91 in-situ-concrete foundations, 412 pile-driven large-diameter tube foundations and 305 drilled large-diameter tube foundations to support more than 800 masts of various sizes and 99 static and movable tensioning systems.
The work is to be undertaken by Powerlines subsidiaries from Germany and Austria. 'Whereas the Germans will be mainly responsible for erecting the masts and the necessary earthing tasks, the Austrian Powerlines engineers will be mounting the contact lines along the route', explained Powerlines Group CEO Gerhard Ehringer on April 19.