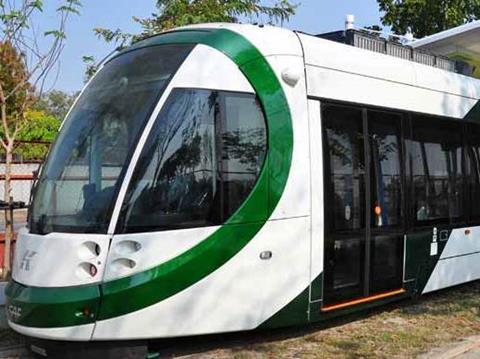 TAIWAN: China Steel Corp has awarded a contract for Thales to supply signalling for the extension of the Kaohsiung light rail line, the supplier announced on January 19.
The 4½ year contract includes the supply of interlockings, traffic light priority systems and automatic vehicle location detection. Trial operations started in October 2015 between Lizihnei and Kaisyuan Jhonghua, and were extended in June by one stop to Kaohsiung Exhibition Centre. This is part of the 8·7 km first phase, which has 14 stops. Two further phases would create a circular 22·1 km, 37-stop circular route.
CAF supplied the signalling for the first section under a turnkey contract awarded in 2013 that also includes rolling stock. The bidirectional trams are equipped with CAF's ACR onboard energy storage technology for catenary-free operation.