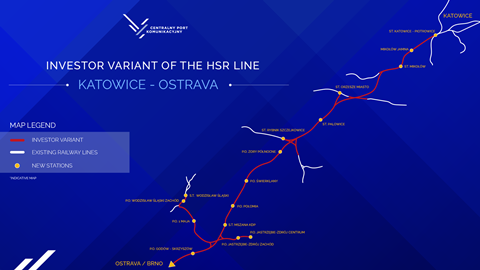 POLAND: Project promoter Centralny Port Komunikacyjny has selected a preferred variant for the proposed 250 km/h mixed-traffic line from Katowice towards Ostrava in the Czech Republic, which it will use to seek investors.
The line is intended to form part of the 1 981 km network of high speed and conventional routes that CPK proposes to build. This would connect Poland's national central airport to be built near Warszawa by 2028 with major cities and areas of the country that are not currently well served by rail. It would also improve international connections to the capitals of neighbouring countries.
Announcing the selection of the preferred route from four shortlisted options on March 23, CPK said it had evaluated more than 7 000 comments that it had received as well as the results of almost 100 meetings with residents and local authorities. Other important factors were the need to respect mining and natural areas.
Stations would be built at Żory Północne, Mszana and Wodzisław Śląski, where an intermodal terminal is to be created.
The preferred variant includes a branch to serve Jastrzębie-Zdrój. This is currently the largest town in Poland without rail access, having a population of almost 90 000 inhabitants. Journey time from Katowice to Jastrzębie Zdrój would be 50 min using regional services and 35 min by high speed train.
The line would also provide a more direct connection from Rybnik and Żory to Katowice and the rest of the country. The journey from Rybnik to Katowice would take just 25 min by high speed train compared to the current 45 min.
'The Katowice – Ostrava section is not only an important railway investment in the Śląskie region, but also part of the TEN-T Trans-European network, which will finally connect Katowice, Kraków and Warszawa with Brno, Praha, Bratislava, Wien and Budapest' said CPK CEO Mikołaj Wild. 'Our cross-border investments are closely co-ordinated with infrastructure manager Správa Železnic, our Czech partner.'