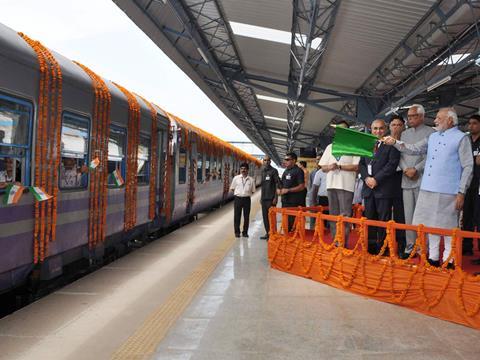 INDIA: Prime Minister Narendra Modi flagged off the first train to inaugurate the Udhampur – Katra section of the rail link to Jammu & Kashmir on July 4, saying it represented 'a triumph of every Indian spirit to overcome the arduous hurdles of nature for reaching the people in this far-flung area', and would 'occupy pride of place on the rail map'.
Construction of the 25·6 km section was managed by Northern Railway. It has cost Rs11·3bn, reflecting the significant engineering works required to pass through a difficult region of the Lesser Himalayas with deep gorges, unstable geology and long months of rain and snow.
The line has gradients of 1 in 100 and a total of 10·9 km of tunnel, with the longest being 3·1 km. There are seven 'major' and 29 'minor' bridges, plus the Jhazzar Khad bridge which is said to be the longest steel girder bridge on the Indian Railways network with two 154 m spans and a height of 85 m. Ballastless track has been used between Udhampur and Chakrakhwal.
Shri Mata Vaishno Devi Katra station serves a Hindu shrine which is a popular pilgrimage destination. There are four 550 m long platforms each with a 400 m long platform shelter, two footbridges, lifts and water booths on all platforms. There is also an intermediate station at Chakrakhwal.
The section forms part of the 326 km Udhampur – Katra – Quazigund – Srinagar – Baramulla railway project to link Jammu & Kashmir to the IR network. The DEMUs operating on the already open but isolated Banihal – Baramulla section have been lengthened from eight to 12 coaches, and four extra train pairs introduced. Construction of the 111 km missing link from Katra to Banihal is underway with completion envisaged in 2018.
The Kashmir railway project was described in detail in the March 2014 issue of Railway Gazette International, which subscribers can read in the digital archive.