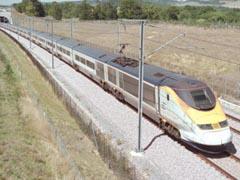 UK: August 17 was the deadline for the submission of indicative bids for a 30 -year concession to operate High Speed 1, the rail link between London and the Channel Tunnel.
Railway Gazette International's sister publication Rail Business Intelligence understands that government-owned London & Continental Railways has secured keen interest from 'a very strong field' of four or five consortia, and expects bids in the upper end of a range from £1·5bn to £2bn.
One bidder is the GB Speedrail consortium, led by Eurotunnel and including Goldman Sachs Infrastructure Partners, Infracapital (owned by M&G), Caisse des Dépôts et Consignations and Universities Superannuation Scheme. Other bids were submitted by Morgan Stanley with 3i and Abu Dhabi Investment Authority; Borealis with Ontario Teachers' Pension Plan; and Li Ka-Shiung, a private investor from Hong Kong.
Negotiations over the coming weeks will consider details of the concession and the likely track access revenue, along with an assessment by bidders of the costs involved in maintaining the infrastructure and prospects for freight on the high speed line.
Firm bids are expected in mid-September, leading to the selection of one or possibly two preferred bidders and financial close by March 31 2011.