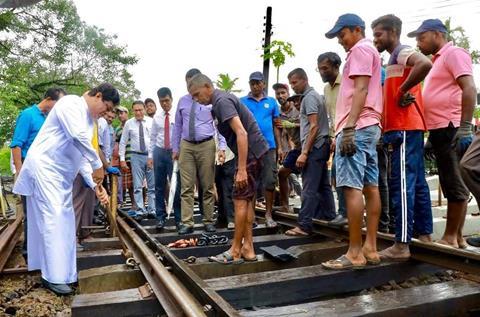 SRI LANKA: A programme to renovate the 59 km Kelani Valley railway between Maradana and Avissawella was launched on September 7 with a ceremony at Homagama station attended by Minister of Transport, Highways & Mass Media Dr Bandula Gunawardena.
Expected to take two years to complete, the Rs1·27bn project is intended to improve Sri Lanka Railways' Colombo commuter services. Track and signalling renewals on the former narrow gauge route are expected to cut journey times between Avissawella and the capital by around 30 min.
Plans to refurbish and electrify the 1 676 mm gauge line had been drawn up under a modernisation programme backed by the Asian Development Bank, but Gunawardena explained that project had not progressed. The government has therefore decided to press ahead using its own resources.
Track renewals will be undertaken using rails and concrete sleepers which are due to be replaced as part of an ongoing upgrading of SLR's Northern main line. New rails procured through an ADB loan have recently been delivered for use on that project. The minister said other materials released by the scheme would be used to revitalise the branch line from Anuradhapura to Mihintale.
Gunawardena told local media that the Kelani Valley Railway, which was built during the British colonial period, 'should be transformed into an electric railway in a way that suits the modern era to provide more effective service to the people'.