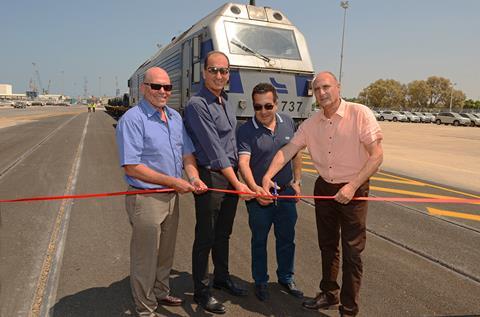 ISRAEL: A rail connection to the Kishon area at the eastern end of Haifa Port was inaugurated on August 17, enabling freight trains to run directly to destinations across the Israel Railways network.
The 2km link was built in around a year as part of a programme of co-operation between the port authority and the national railway. This has included the extension of tracks to accommodate container trains.
'It is not a huge infrastructure project, but its contribution will be great', said Haifa Port Co Deputy General Manager, Operations, David Cohen at the inauguration ceremony.
One of the first uses for the new link will be the delivery of Bombardier Transportation Traxx electric locomotives and double-deck push-pull coaches, the first of which are scheduled to arrive from Germany shortly.
Speaking at the inauguration of the link, ISR General Manager Shahar Ayalon said transport was a 'national challenge' which required co-operation between different organisations. He said ISR's rail freight activities now generated US$110m a year, and the company's vision was to be able to offer 'a door-to-door service from the port to factories and back'.
'Co-operation between the port and the railways is constantly accelerating', added ISR Deputy General Manager, Freight, Uri Sharir. 'The results can be seen all over Israel in siding extensions as well as in the increased number of freight trains.'