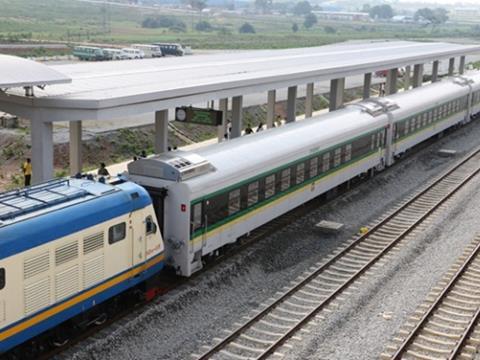 NIGERIA: China Civil Engineering Construction Corp is to complete the long-planned 1 435 mm gauge railway linking Lagos and Kano, under a U$6·68bn contract signed in Abuja on May 15.
During the signing ceremony Transport Minister Rotimi Amaechi said the line should be completed in two to three years, 'depending on availability of funds'. The work will largely be funded by loans from Chinese banks, and the minister said the government would be able to fund the local share from its 2018 and 2019 budgets.
CCECC is currently building a 156 km standard gauge line from Lagos to Ibadan, paralleling NRC's existing 1 067 mm gauge Western main line which connects the country's commercial hub with Kano and the north. Work on this section was initiated by Vice-President Yemi Osinbajo in March 2017. The company had previously completed an isolated standard gauge line from Ido, near Abuja, to Kaduna, which was inaugurated by President Buhari in 2016, and was awarded another $1·69bn contract that year to extend the route from Kaduna to Kano.
According to the ministry, 'the signing of the Ibadan – Kaduna contract agreement concludes all outstanding segments of the Lagos – Kano railway'. Like the existing railway, the route is expected to serve Oshogbo, Ilorin and Minna, and there will be a branch from Oshogbo to Ado-Ekiti. The line would also connect with the 650 km east-west Nigerian Coastal Railway linking Lagos and Calabar, which is being developed by CCECC's parent China Railway Construction Corp under a US$12bn contract awarded in 2014.
Construction of the standard gauge lines is separate from the concession for a GE-led consortium including SinoHydro, Transnet of South Africa and APM Terminals to rehabilitate and operate NRC's existing 3 505 km narrow gauge network. The consortium had been selected last year, and the concession agreement was finally signed by the government on April 27, following the approval of a US$1·23bn loan from China's Eximbank to fund the modernisation work.