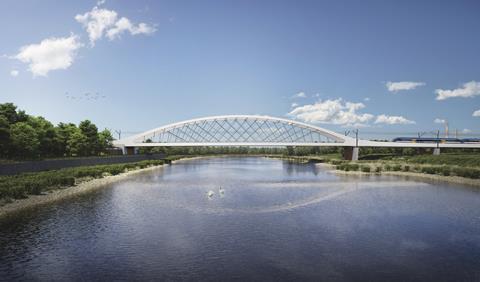 EUROPE: DB Netz is to call tenders in August for the construction of a 'landmark' bridge across the River Oder near Kostrzyn, which forms the border between Germany and Poland.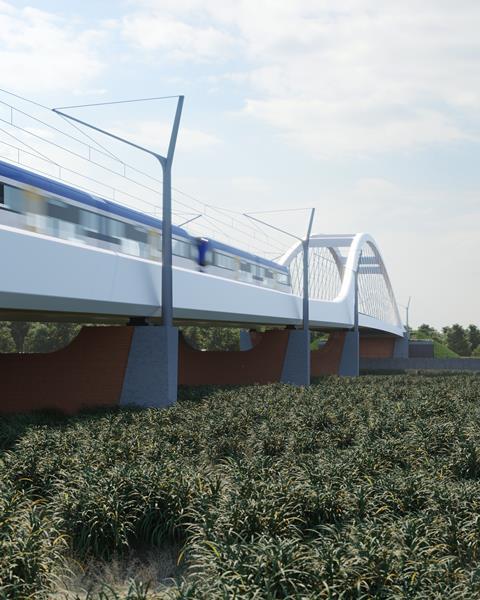 The 266 m long bridge designed by Knight Architects with structural design by Schüßler-Plan Berlin will replace a truss bridge dating from before World War II. Its main feature will be a 130 m network arch, with the top of the steel structure positioned at the border to form what Knight Architects says will be 'a landmark that will not only highlight the importance of the location but will be also a welcoming gesture to everyone traveling between the two countries.'
A second bridge incorporating similar architectural features will cross a flood relief canal 500 m west of the main crossing.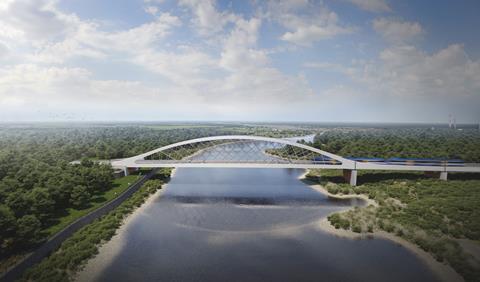 The €36·7m bridge project forms part of the modernisation of the Berlin – Kostrzyn – Gorzów Wielkopolski section of the historic Ostbahn main line, which was disrupted by the post-war border changes and the Cold War.
Site preparation works for the new bridge have begun, with main construction planned to start in spring 2021 and the opening planned for the end of 2022.