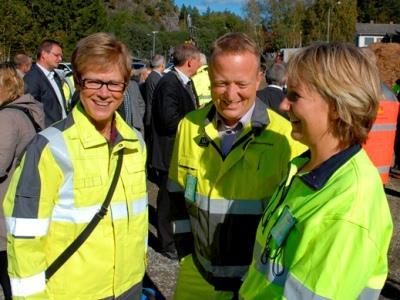 NORWAY: Minister of Transport and Communications Marit Arnstad fired the first salvo on September 19 to mark the start of upgrading work on the Larvik - Porsgrunn section of the Vestfold line between Oslo and Skien.
The NKr6·1bn project will see the construction of a 22 km double-track suitable for operation at up to 250 km/h, which would help to reduce the journey time between the two cities from 32 to 12 min. Around 14·5 km of the new line will be in tunnel, with the longest bore being 4 680 m; this is expected to help reduce the risk of landslides.
The Vestfold line upgrading project forms part of a rolling programme to double-track and increase line speeds on Norway's triangle of inter-city radiating from Oslo to Hamar, Skien and Halden, up to around 150 km from the capital. Although some isolated sections had been built sporadically since the early 1990s, the programme has recently seen a major boost, and political discussions are underway about a commitment to bring the rest of the work forward.