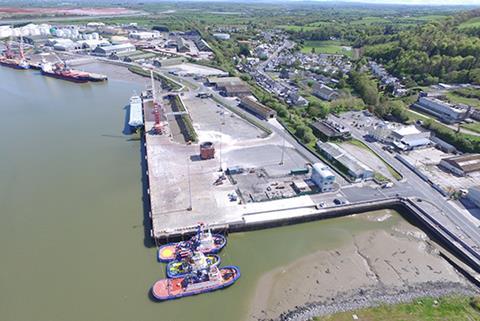 IRELAND: Iarnród Éireann has invited expressions of interest in rehabilitation works for the reopening of the line from Limerick to Foynes on the Shannon estuary.
The 42 km line which last saw a revenue train in 2000 would initially be reopened for freight, connecting Shannon Foynes Port to the national network.
IÉ expects rehabilitation of the out of use infrastructure to take around 18 months, but the railway told Railway Gazette International on August 4 that there is no set opening date
The deep water port is on the EU TEN-T core network and a Tier 1 Port in the National Ports Policy, and operator Shannon Foynes Port Co supports the reinstatement of the railway as part of its 2041 masterplan.
SFPC and the EU's Connecting Europe Facility funded a scoping study for the railway reopening in 2014. Preliminary design work was undertaken in 2015 and detailed design in 2019.
'Re-establishing rail links to Tier 1 ports including Foynes is a key part of Iarnród Éireann's freight strategy and we are engaging with the Department of Transport on this', an IÉ spokesperson said. 'We are seeking to establish prequalification interest for track and civil works needed for freight operations, to ensure that should there be funding available, we would be in a position to proceed quickly to procurement.'
Commenting on the plan, General Secretary of the TSSA trade union Manuel Cortes said reopening would be 'a sure sign of progress because it places rail at the heart of Ireland's future', and would boost the local and regional economy.
A railway order could also be sought to allow passenger services.
Cortes said 'it is important that the future of the Limerick to Foynes line is as much about passenger services and building the capacity of the network as it is freight'.