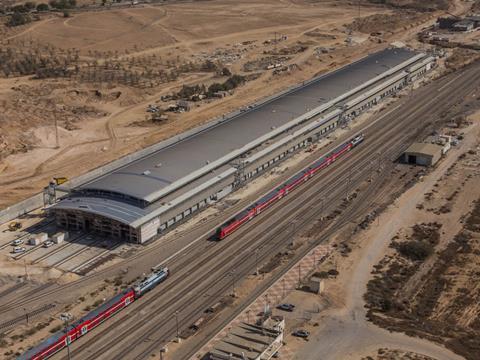 ISRAEL: The government has launched a project to develop new sections of line which would provide a fast rail corridor running from Qiryat Shemona near the border with Lebanon in the north to Eilat on the Red Sea in the south.
The estimated 100bn shekel scheme was officially launched by Prime Minister Benjamin Netanyahu and Transport Minister Miri Regev on July 30.
The line would be more than 300 km long, with 250 km/h operation envisaged on various sections of the route.
The government has allocated an additional 2·5bn shekels for planning, with a view to operations beginning in 2035.
The project requires three main sections of new line. Design work is underway for the northern section, which comprises a new 54 km double-track line from Qiryat Shemona to Karmi'el. This would include 20 km of tunnel, and three to five stations.
The central section would be the reinstated East Line between Hadera East and Lod, which closed in the 1970s. Reconstruction of the 64 km double-track line with seven stations is now at an advanced stage, with opening scheduled for 2026.
The southern section to Eilat would partially use an existing freight railway which carries phosphate from the Har Zin area. The rest of this segment would use a new alignment which has still be finalised. This line was first proposed in 1957, but has been rejected numerous times because of the challenging topography.
In the longer term, it is hoped that the north-south line would form a landbridge between the Red and Mediterranean seas, and links to Jordan and Saudi Arabia are envisaged.