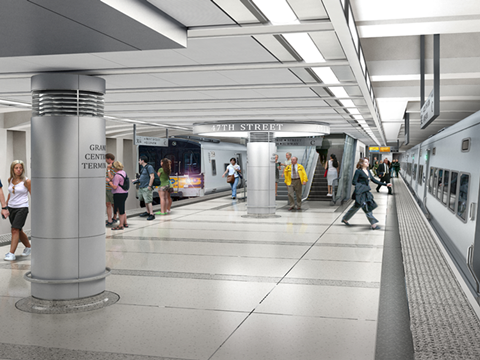 USA: New York Metropolitan Transportation Authority has awarded the GCT Constructors joint venture of Schiavone Construction Co and John P Picone Inc a $404·8m contract to build the future Long Island Rail Road concourse at Grand Central Terminal.
The work is part of the $10bn East Side Access project, which will see trains from all 11 branches of the Long Island Rail Road using new platforms beneath Grand Central Terminal.
There were nine other bids from the concourse contract, which has options which could take the total value to $428·9m. The scope includes architectural, structural, mechanical and electrical works for the 34 800m2 LIRR concourse, along with fitting out ventilation plants and providing escalators, lifts and passageways to the rest of the Grand Central site. The work is being funded by the Federal Transit Administration and MTA local funds.
'Up to this point, East Side Access work at Grand Central Terminal has been largely unseen by the public', said Dr Michael Horodniceanu, President of MTA Capital Construction. 'This contract finally brings the construction from 140 ft [43 m] below-ground up to the dining concourse at GCT and in other places where the public will finally start to see what's been going on right underneath their feet.'
Revenue services on the East Side Access are planned for December 2022.