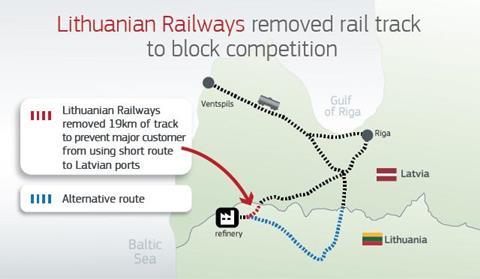 LITHUANIA: Following a competitive tender, national railway Lietuvos Gelezinkeliai has awarded Skinest Rail subsidiary Vitras-S a contract worth €9·38m plus VAT to reinstate the line connecting Mažeikiai with Rengė in Latvia, which had been closed in controversial circumstances.
The project includes the rebuilding or repair of 19 km of track, five level crossings, six bridges and communications and electrical systems. Completion is planned by the end of this year.
The line provided a link to the Latvian border from an oil refinery owned by Orlen, a major rail freight customer which had considered transferring its business from vertically integrated state railway LG to another operator in 2008. However, LG closed and dismantled the line in October of that year, ostensibly because it was in poor condition, traffic levels were not considered sustainable and other cross-border routes had spare capacity. This meant any competing operator would need to use a much longer route to access the refinery.
Orlen made a complaint to the European Commission, which carried out inspections in 2011 and opened formal antitrust proceedings in 2013. The Commission found that LG had failed to show any objective justification for the removal of the track and had hindered competition by preventing its customer from using the services of another operator. This was deemed to be in breach of Article 102 of the Treaty on the Functioning of the European Union, which prohibits the abuse of a dominant market position.
In October 2017 the Commission fined LG €27·9m and required it to 'bring the infringement to an end and refrain from any measure that has the same or an equivalent object or effect', with Competition Commissioner Margrethe Vestager saying this could best be accomplished by reinstating the line.