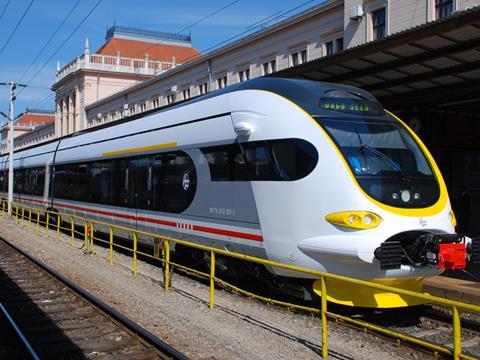 CROATIA: Infrastructure manager Hrvatske Željeznice Infrastruktura has applied for a loan from the European Bank for Reconstruction & Development to help finance a €120m rehabilitation programme for the Savski Marof – Zagreb section of Trans-European Corridor X.
The project covers 22 km of double-track on the western approach to the capital, together with various connecting lines. Both tracks are to be relaid with new rail and concrete sleepers, and the route will also be resignalled.
The EBRD funding is also expected to cover consultancy services for the development and monitoring of the infrastructure manager's safety plan and for a strategic review into potential options for the commercialisation of railway property.
Tendering for the work is expected to start in the second quarter of 2014.
Meanwhile, the Croatian government is reviewing proposals for modernisation of the rail corridor from Rijeka to the Hungarian border via Zagreb, which is to be upgraded with European funding. An initial tranche of 1·25bn kuna will be allocated for reconstruction and double-tracking of the Dugo Selo – Krizevci section of the route.
Passenger operator HŽ Putnički Prijevoz has announced its intention to withdraw services from 22 little-used lines with effect from April 24, following a reduction in state support. Managing Director Dražen Ratković said the new timetable offering 343 trains/day in place of 724 would save 80m kuna a year.