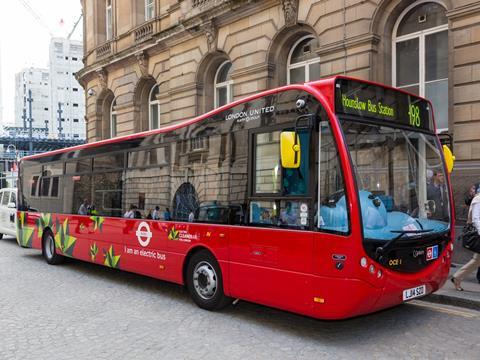 UK: Mayor of London Sadiq Khan published his first draft transport strategy on June 21. It is open for public consultation until October 2.
Noting that the city's population is set to expand from 8·7 million to 10·5 million over the next 25 years, the document sets a target for 80% of all journeys to be made on foot, by bicycle or by public transport by 2041, from 64% today.
All public transport is to become zero-emission by 2050. Zero-emission zones would be created in central London and suburban town centres from 2025, extending to inner London in 2040. All taxis and private-hire vehicles are to be zero-emission capable by 2033, with the entire bus fleet zero-emission by 2037.
Double-deck buses purchased from 2018 are to be hybrid, electric or hydrogen-powered. Bus services are to be improved, with more dedicated bus lanes created.
'Micro-distribution centres' in inner London are to be set up, in which goods deliveries are to be made by low- and zero-emission vehicles. A wider network of regional distribution centres is expected to reduce van and lorry use in the morning peak by 10% by 2026. Beyond that, Transport for London aims to work with Network Rail and the Port of London Authority to effect a shift in freight from roads to rail and the River Thames.
The next generation of road charging technology is to be developed, while existing and planned road charges are to be kept. New housing and office developments are to have less car parking provision, with those nearest to public transport to have none at all. Provision would be made for electric vehicle charging points, and all new developments would have secure cycle parking. TfL would furthermore support the provision of car clubs.
All of this feeds into the 'Healthy Streets Approach' and 'Liveable Neighbourhoods' to improve the walking and cycling experience. 'Healthy Routes' are to be developed to create attractive, safe and accessible walking routes to local amenities.
New cycle routes are to be developed with improved infrastructure. The strategy aims to have 70% of residents living within 400 m of a 'high-quality, safe' cycle route by 2041.
Two new river crossings are proposed in east London: the 'public transport focused' Silvertown Tunnel and a pedestrian and cycle crossing from Rotherhithe to the Isle of Dogs.
Pedestrian wayfinding maps are to be improved and rolled out to more locations, and journey planning and navigation tools for walking and cycling are to be developed. In a similar vein, the passenger experience on the Underground and buses are to be improved using 'innovations'.
The rail network is to be expanded. Projects to be taken forward include the southwest-northeast Crossrail 2, an extension of the Bakerloo Line to Lewisham and beyond, an extension of London Overground's Gospel Oak – Barking Line to Barking Riverside, and an extension of the Docklands Light Railway to Thamesmead. There is also a vision for TfL to take over responsibility for some suburban main line services.
Other modernisation projects for the Underground include the introduction of new rolling stock, improved station environments, better accessibility and 4G mobile communications in the tunnels.
As TfL will no longer receive a government grant from 2018, the report acknowledges that new revenue sources would have to be found in order to pay for the proposals.