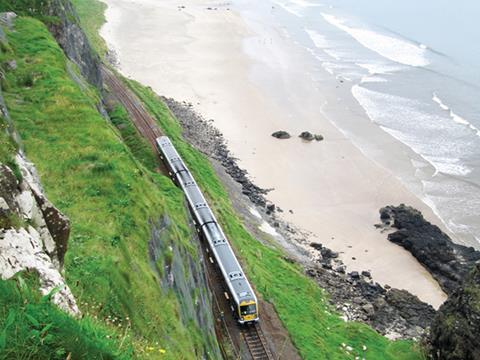 UK: Northern Ireland transport company Translink officially reopened the 54 km line between Coleraine and Londonderry on March 22, following an eight-month suspension of services while a £30m infrastructure renewal programme was undertaken.
The Renewals Phase 1 project is intended to secure the future of the line for the next 30+ years, ensure safety standards are met and reduce maintenance requirements.
Work undertaken by McLaughlin & Harvey and the McCann BAM Rail joint venture included track renewals, replacement of the Pottagh Bridge and refurbishing an 11-span bridge over the River Bann which includes a lifting section. The project was funded by the Department for Regional Development and European sources.
A 'Try the Train' campaign has been launched, with 85 000 households close to the line being sent copies of the new timetable launched on March 24 and a voucher for 50% off a day return ticket.
A second phase of works is planned for 2014, subject to funding being secured. This would include provision of a passing loop and new signalling to enable the operation of an hourly service between Belfast and Londonderry from 2015.
'The popularity of rail travel in Northern Ireland continues to grow, with over 80% growth in passenger numbers in the last 10 years and we are on target to exceed a record-breaking 11 million journeys this year, said Translink Chief Executive Catherine Mason. 'Investment in trains and service developments have delivered a step-change in punctuality and reliability performance as well as ensuring customer satisfaction remains at a very high level.'