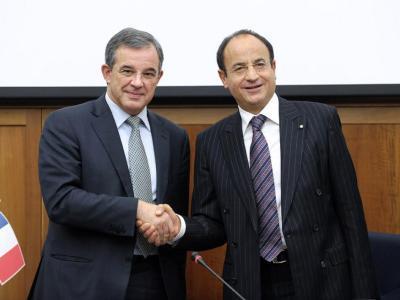 EUROPE: French Transport Minister Thierry Mariani met Italy's Vice-Minister for Infrastructure & Transport Mario Ciaccia in Roma on January 30 to sign a supplementary agreement covering the final route, phasing and funding of the high speed line between Lyon and Torino.
Hoping that the European Union will provide co-funding at the maximum level of 40%, Italy has agreed to provide 57∙9% of the remaining €8∙5bn required to build the first phase of the project, with France providing 42∙1%. Phase 1 comprises a 57 km base tunnel under the Alps between Saint-Jean-de-Maurienne in France and Susa in Italy.
'The Lyon – Torino high speed line is a project that represents the whole of Europe, not just Italy and France', said Ciaccia. 'It is, in fact, a fundamental component of the Mediterranean Corridor in which Italy is investing substantial resources'.
According to the French transport ministry, the final alignment agreed in Roma reflects recent work on the Italian side to reduce the impact of the high speed line on the natural and built environment. Access routes to the base tunnel are currently the subject of a public enquiry in France.
The Lyon – Torino high speed line is to be taken forward by a new public body based at Chambéry in France, succeeding Lyon Turin Ferroviaire. Currently a 50:50 joint venture of infrastructure managers RFF and RFI, LTF was established after the governments of France and Italy first agreed to build the new line in January 2001.