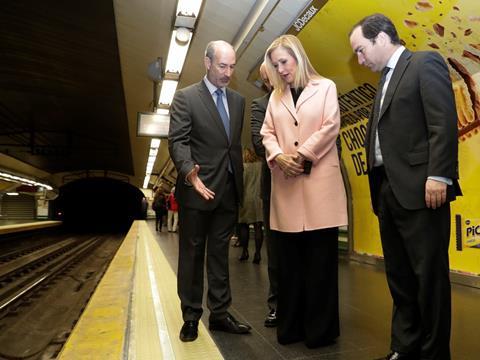 SPAIN: The Madrid regional government has announced a €60∙6m programme to refurbish 23 stations on the city's metro network by 2021. The stations located on eight different lines are used by a total of 280 million passengers a year.
According to Cristina Cifuentes, President of the Madrid regional government, the programme will see stations modernised with passenger facilities and security systems 'fit for the 21st century', paying particular attention to finishes, flooring and lighting.
At 10 stations, refurbishment will be undertaken alongside work to install passenger lifts, funded separately under the metro's 2016-20 accessibility programme. With funding of €145m from the regional government, this will see 80 lifts installed at a total of 30 stations.
Metro de Madrid has completed its programme to move station staff out of ticket offices, redeploying them at ticket machines to assist passengers with their journeys. The company says that its roving staff will also be able to notify the maintenance department of any defects requiring attention more quickly.