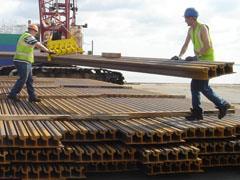 SAFETY: The use of temporary fences to protect worksites is becoming more common, as railways come under pressure to keep busy lines open during maintenance and upgrading work. Such fences are typically secured to spikes driven into the ground or clipped to adjacent tracks.
The RSS magnetic safety fence is very simply and quickly attached to the web of the nearest running rail using magnets with a tensile force up to 600 kg/N. Each L-shaped galvanised steel stanchion is kinked around the rail fastening to rest on a sleeper, which thus carries the weight of the fence and ensures an even spacing of the supports at around 3 m intervals. Lightweight aluminium or plastic poles in 4 m sections with quick-locking insulated joints are clipped to the uprights to complete the fence. Removal is just as quick, as the stanchions can be lifted to twist the magnet away from the rail.
RSS has designed a trailer-mounted transport frame which can carry components for 1440 m of fence. The system was approved by safety authorities in the Netherlands last year, and it is currently being tested by TÜV for use in Germany.