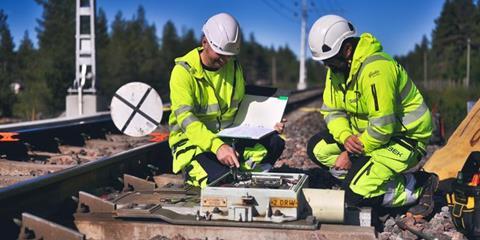 SWEDEN: Infrastructure manager Trafikverket has put into operation the first of seven computer-based interlockings being installed on the Malmbanan iron ore line in preparation for the introduction of ERTMS.
According to Trafikverket project manager Peter Nilsson, about 20% of the interlockings on the 397 km Boden – Kiruna – Riksgränsen line are now past their natural life expectancy, and 40% will be obsolete by 2022-23. The SKr3bn resignalling programme announced in 2019 will see the number of interlockings reduced from 50 to seven, with each controlling a larger area. Installation has started on the least-sensitive section of the route, between Gällivare and Råtsi, so as to minimise any risk of disruption to the intensive flow of iron ore trains.
Replacement of the 1960s-era Model M59 relay interlocking at Sikträsk, north of Gällivare, was completed on August 10 following a 36 h blockade. Trafikverket staff worked alongside specialists from Omexom, SIBEK, Sweco and Bombardier Transportation to complete the commissioning of the model 95 computer-based interlocking. Around 70 people were involved in the project, and special precautions were put in place to minimise any risk of coronavirus transmission.
Replacement of the relay interlockings is intended to pave the way for the introduction of ETCS Level 2 operation from 2022, although at present the Sikträsk interlocking has been connected to the existing lineside signalling and legacy ATC train protection system. Noting that the cut-over was 'the first of many', ERTMS project manager Stefan Scherp commented that the 'rigorous commitment' of the design, installation and commissioning teams had ensured 'it all works flawlessly'.