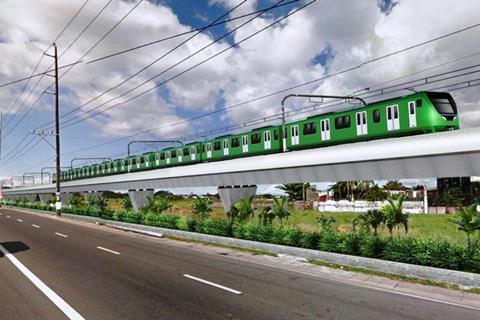 PHILIPPINES: The first two civil works contracts for the 53·1 km second phase of the 163 km North-South Commuter Railway Project which will cross the Manila region were signed on August 1.
Phase 2 will run northwest from Manila's northern suburb of Malolos to the Clark economic zone and Clark International Airport in Central Luzon. It is scheduled to open from 2022, reducing travel times between Malolos and the airport from 1½ h to 30-35 min. This is expected to ease chronic road congestion, cut transport costs, spur economic activity and encourage a population shift from the capital to regional growth centres further north.
Contract Package N-04 which was awarded to Acciona Construction Philippines and EEI Corp covers civil works for a 6·3 km section of the main line, a 1·6 km depot access spur and an underground station at Clark International Airport.
Package N-05 awarded to POSCO Engineering & Construction covers civil works for the 33 ha Clark depot in Mabalacat. It includes construction of the operations control centre, stabling yard, workshops, training centre and other ancillary buildings.
Department of Transportation Secretary Arthur Tugade led the 'virtual signing' of the contracts, which he said were proof that flagship projects under the government's 'Build, Build, Build' programme were continuing despite the coronavirus pandemic.
'While the critics have expressed doubts, scepticism and discouragement, we will give the people hope, confidence and assurance through concrete actions and actual work', he said. 'Since the North-South Commuter Railway Project will feature the country's first airport express train service allowing travellers to get from Makati to Clark Airport in under 1 h, we can consider it as a trail-blazing project. To achieve this, trains will run at 160 km/h, making it one of the fastest modes of land public transportation', he added.
In May 2019 the Asian Development Bank approved financing of up to US$2·75bn for construction work on NSCR Phase 2. Japan International Cooperation Agency will provide US$2bn of financing for the rolling stock and the railway systems.
Ramesh Subramaniam, ABD Director General for Southeast Asia, said the award of the first two contracts would 'help kickstart the economic revival of the Philippines over the next 12 months as the country faces the pandemic.' ADB estimates that the railway project will create 24 000 local construction jobs during the next three years, with at least 14 000 jobs to support operation of the railway, he added.
The full NSCR project linking New Clark City in the north with Calamba to the south of Manila is planned for completion by 2025.