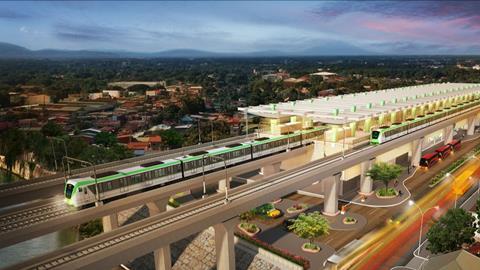 PHILIPPINES: The Asian Development Bank has approved a US$4·3bn loan package to finance construction of the South Commuter Railway between Manila and Calamba. Future services will offer a journey time of around half the 2½ h taken by road.
The US$1·75bn first tranche is to be made available by ADB this year, with the second and third tranches in 2024 and 2026. This will finance the civil works for the 54·6 km double-track 1 435 mm gauge electrified line between Blumentritt and Calamba, the 18 stations, depot buildings and a connecting tunnel to allow the operation of direct trains from Calamba to stations on the future Metro Manila Subway.
The infrastructure will be designed to withstand typhoons and earthquakes.
Japan International Co-operation Agency is funding the rolling stock and railway systems.
Cross-conurbation corridor
The South Commuter Railway forms part of the North–South Commuter Railway project, along with the 53 km first phase of the Malolos – Clark Railway to the north which is under construction with US$2·75bn of ADB financing. Proposed future extensions which would take the NSCR to 163 km. Ridership is predicted to be up to 1 million passengers/day by 2040.
ADB said the NSCR is expected to create more than 35 500 jobs during construction and over 3 200 permanent jobs during operation, with a growth multiplier effect through supply contracts and better connectivity; there will be an average of more than 300 000 jobs within any 1 h commute along the route.
'The South Commuter Railway Project will provide affordable, safe, reliable and fast public transport', said ADB Vice-President for East Asia, Southeast Asia & the Pacific Ahmed M Saeed when the latest financing package was announced on June 9. 'This project represents ADB's biggest infrastructure investment and reflects our commitment to helping the Philippines attain its goals of reducing poverty, improving the lives of Filipinos, and achieving green, resilient and high economic growth.'