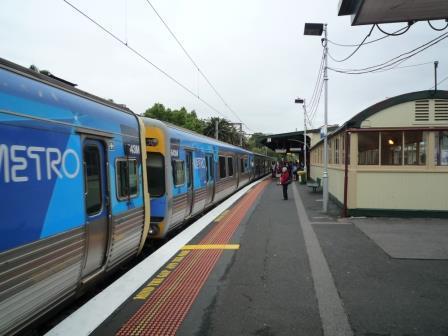 AUSTRALIA: A programme for construction of the long-planned rail link to Melbourne Airport will be included in Victoria's state budget to be published on May 6, the state Premier Denis Napthine announced on April 13.
Identified as one of several major expansion projects in Public Transport Victoria's Metropolitan Rail Network Development Plan published in December 2012, the airport line was not initially seen as a high priority, in terms of cost-benefit analysis. However, patronage at the airport is expected to double in future as the city's population is growing rapidly.
The airport service would harness spare capacity between North Melbourne, Footscray and Sunshine being created as part of the Regional Rail Link project. The trains would diverge from the Melbourne – Sunbury suburban line via a grade-separated junction at Albion, to join the existing broad-gauge Jacana freight line which parallels the interstate standard-gauge route towards Albury. This would be upgraded and electrified, so that the trains could reach a new branch serving an elevated terminus at Melbourne Airport.
According to Napthine, the airport service would initially run into Southern Cross station, offering a 25 min journey time with trains running every 10 min in the peaks. PTV's long-term strategy envisages that the airport trains should operate through the planned cross-city metro tunnel to join the Dandenong lines in the southeast. This would provide access to the airport from all of Melbourne's suburban routes with only one change.
'This project has been on the books for over 40 years', said Napthine, adding that the government 'will outline our plans to build this rail link in the upcoming state budget'. A final decision on the timescale and funding for the project is expected to follow the state government elections on November 29.