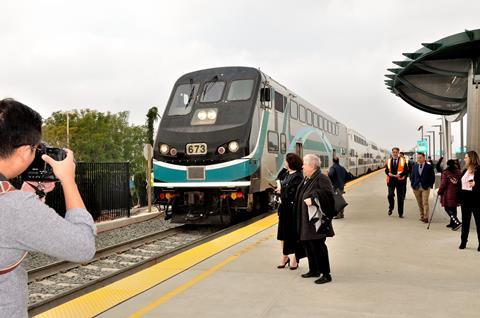 USA: California commuter operator Metrolink has held a ceremony to mark the $32m rebuilding of Van Nuys station in Los Angeles under a two-year project which is nearing completion.
The station is on Metrolink's Ventura Line, a Union Pacific route which is also served by Amtrak passenger services. During the rebuilding trains called at a temporary platform.
The station has been rebuilt from a side platform to an island configuration with longer platforms.
'The newly reconstructed Van Nuys station allows both tracks to be used simultaneously, increasing capacity, and provides safe access to the platform from a newly built pedestrian underpass, keeping trains and passengers separated', explained Metrolink board Chair Brian Humphrey on January 16.
The state of California provided a grant of $31·1m and Los Angeles County Metropolitan Transportation Authority $1m.
The styling of the station is inspired by a General Motors car factory which once operated nearby, including the 'Chevelle Green' colour scheme.
'It's appropriate to look back to the industries that helped the Valley grow and prosper in the past', said Los Angeles city council member and Metrolink board member Paul Krekorian. 'Looking forward, our future is linked to Metrolink service and the light rail line that is planned to connect here. This modernised station represents an alternative to driving to help reduce traffic congestion and air pollution.'