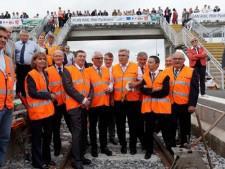 FRANCE: Passenger services are due to resume between Toulouse and Saint-Sulpice on September 3, following the completion of four-month track renewals programme at a cost of €34m.
This was marked by a ceremony to weld in place the last rail on August 29, attended by Transport Minister Frédéric Cuvillier, President of the Midi-Pyrénées region Martin Malvy, RFF President Hubert du Mesnil and Pierre Izard, Director General of SNCF Infra.
Toulouse - Saint-Sulpice is one of 11 routes where extensive track renewals have been undertaken under the 2007-13 Midi-Pyrénées Rail Plan, the largest renewals programme ever undertaken for regional routes according to RFF. To accommodate a doubling of traffic on TER services, over 500 km of track has been renewed at a cost of €415m.
This has required over 4 500 staff, with work managed for RFF by a dedicated SNCF unit based in the region. The programme has also seen the deployment of factory trains during line closures, Toulouse - Saint-Sulpice requiring up to 180 bus services a day to carry over 600 000 passengers as track renewals were carried out.
Total Rail Plan spending is €820m, of which €400m has been provided by the Midi-Pyrénées region itself, €193m by the French government, €179m by RFF and €48m by the European Regional Development Fund. Work continues on other aspects of the programme, including doubling the Toulouse - Saint-Sulpice route where completion is scheduled for 2013.