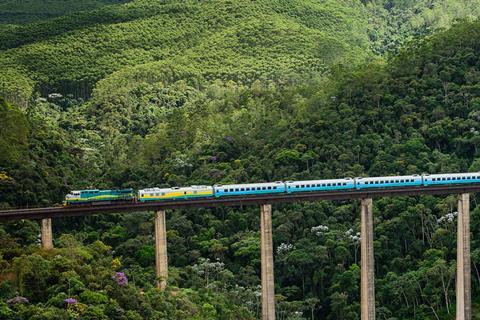 BRAZIL: Proposals for revitalising the rail network, including revival of both freight and passenger services, are being assessed in the state of Minas Gerais. Forming part of a Strategic Railway Plan for the state, the plans were presented at a hearing of the Extraordinary Commission for Railways in the Legislative Assembly on October 29.
Due to be completed during the first quarter of 2021, the Strategic Railway Plan is being drawn up by the Dom Cabral Foundation business school near Belo Horizonte. It is being sponsored by the National Association of Railway Transport and covers about 60 projects.
The plan is based on an analysis of the current network which will provide data on feasibility, supply and demand as well as likely costs. It includes 15 schemes for freight, four intermodal and logistics hubs, 23 proposals for regional passenger services, seven bypasses round urban areas and three metro projects, as well as 11 tourist train concepts. Initial studies for regional passenger and tourist services have already begun.
In an analysis prepared earlier this year, the top three freight projects were a line between Unaí and Anápolis, doubling of the line from Pedreira to Capitão Eduardo in the Belo Horizonte area and a line from Chaveslândia to Uberlândia. Top ranking proposals for regional passenger services were from Divinópolis to Lavras and from Lavras to Três Coraçoes and Varginha.
Vânia Silveira de Pádua Cardoso, Superintendent for Rail Transport in the Secretariat for Infrastructure & Mobility, said that the Strategic Railway Plan would only be a starting point for discussing the future of the rail mode in the state.