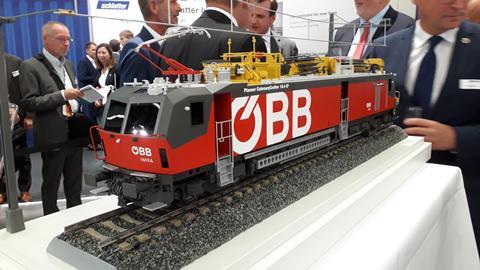 AUSTRIA: Plasser & Theurer is to supply ÖBB Infrastruktur with a fleet of 56 modular maintenance vehicles with hybrid traction drives under the largest contract ever placed with the company. The order includes an option for another 46 vehicles.
First delivery is scheduled for the end of 2023, with the rest of the fleet following by 2027. The machines will draw traction power from ÖBB's 15 kV 16∙7 Hz overhead power supply or operate using onboard batteries; a diesel-electric powerpack will be available as back-up. Maximum speed for travel between worksites will be 120 km/h.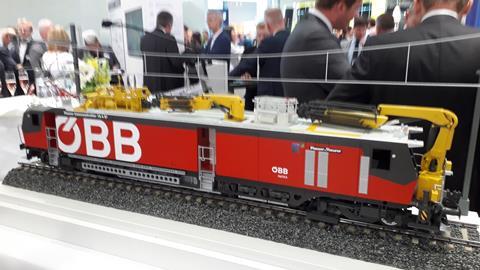 Three different versions of the standard machine will be built, two of which are for inspection and maintenance of overhead line equipment. The CatenaryCrafter 15.4 E3 Type 1 will be fitted with a three-part elevated work platform and crane and its sister CatenaryCrafter 15.4 E3 Type 2 will feature a freely-moving work platform and crane designed for inspection and maintenance tasks; it will also have a store and workshop.
The third variant, the MultiCrafter 15.4 E3 Type 3, is intended for a wide range of track and infrastructure work. It will have a loading bed able to take 10 tonne loads and will carry a crane for handling sleepers and sections of rail. It will also be able to haul ballast wagons.
The contract covers 29 CatenaryCrafters and 21 Multicrafters, together with six TransportUnits designed to carry specialist equipment for tasks such as tunnel cleaning.
ÖBB CEO Andreas Matthä said during a presentation of the future fleet at InnoTrans on September 22 that the project was a 'milestone' that enabled the business to look positively at future challenges. The reduction in emissions achievable thanks to the electric and battery drives matched ÖBB Infrastruktur's climate protection policy, he noted.