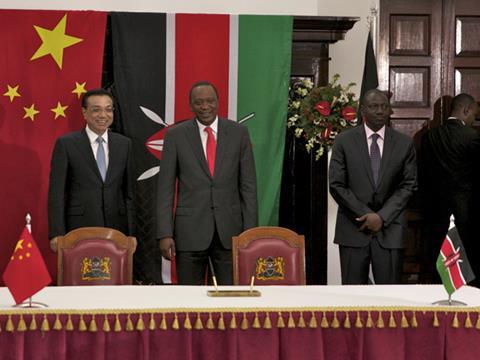 KENYA: An agreement to finance the construction of a 609 km standard gauge railway between Mombasa and Nairobi was signed on May 11 by Cabinet Secretary for the Treasury Henry Rotich and the President of China Exim Bank, Li Ruogu. China Exim Bank is to meet 90% of the US$3·60bn cost, with the remaining 10% to come from the government of Kenya.
President Uhuru Kenyatta was joined at the signing ceremony by Chinese Premier Li Keqiang, who was on a state visit during which the two countries signed 17 bilateral deals worth more than KSh500bn. The presidents of Uganda, Rwanda and South Sudan and a minister from Burundi also attended the event, reflecting the intention that the line will form the first phase of a US$8·1bn international network serving Kampala, Kigali and Bujumbura with a branch to Juba by 2020.
President Kenyatta had ceremonially launched construction of the project on November 28 2013, but work was subsequently halted while two parliamentary commissions investigated whether procurement rules had been followed when the contract was awarded to China Communications Construction Co subsidiary China Road & Bridge Corp. Main works are now expected to start on October 1 this year, for completion within 42 months.
The line is to be built to Chinese 'class 1' standards, designed for robustness and low maintenance. The route runs from Mombasa Port to Nairobi's Embakasi Inland Container Depot, with passenger stations at Mombasa, Mariakani, Voi, Mtito Andei, Sultan Hamud, Athi River and Nairobi (Embakasi). The single-track line will have 33 crossing points with 1·2 km loops, and no level crossings.
A total of 56 diesel locomotives, 1 620 wagons and 40 coaches are to be supplied. The line will be designed for trains with trailing loads of 4 000 tonnes or double-stack intermodal trains up to 216 TEUs, with the possibility of future electrification.
The government expects the line to cut freight shipping costs from the current US$0·20 per tonne-km to about US$0·083 per tonne-km, and enable a businessman to 'have his breakfast in Nairobi and be at the Port of Mombasa in 4 h to load cargo onto a train, then be on hand to take delivery in Nairobi that same evening.'
Mombasa - Nairobi standard gauge railway specifications
Gauge
1 435 mm
Length
609·3 km
Maximum speed
Passenger: 120 km/h
Freight: 80 km/h
Axleload
25 tonnes
Minimum curve radius
1 200 m
Maximum gradient
1·2%

Mombasa - Nairobi journey times

Passenger: 4½ h
Freight: 8 h
Project cost
US$3·604bn
(90% China Exim Bank, 10% government of Kenya)