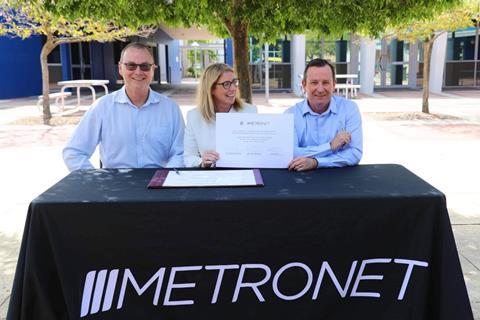 AUSTRALIA: The MELconnx Consortium has been awarded the contract to design and build the 21 km Morley – Ellenbrook line to serve the northeast suburbs of Perth.
The A$700m contract was signed on October 18 by the Western Australia government and the Laing O'Rourke Australia Construction-led consortium which includes Arup.
This is the largest of four works packages for the project, and includes design, construction and commissioning of the 21 km line and five stations at Morley, Noranda, Malaga, Whiteman Park and Ellenbrook.
Separate contracts are to be let for the rebuilding of Bayswater station as a transport hub on a new site where the new line will branch from the Midland Line, and for civil and structural works needed to provide rail access in and out of the Tonkin Highway corridor, which the line will follow for part of the route, and for forward works.
The project has a total budget of A$1·1bn, making it the largest project in the Metronet transport investment package, and is being funded jointly by the national and state governments.
Expected to open in late 2024, the new line is intended to provide a greater choice of transport options for people living and working in Perth's growing northeastern suburbs, where the population is predicted to double by 2031, and is expected to avoid more than 10 000 car trips a day by 2031.
The journey time from Ellenbrook to Perth city centre will be 30 min, which Metronet says is almost half the current travel time by current public transport.
Bayswater station will provide connections for the airport, Optus Stadium, Fremantle and Mandurah. Future plans include an additional station at Bennett Springs East.
'Just like we promised, we're building the rail line to Ellenbrook', said State Premier Mark McGowan when the contract was signed. 'This has been talked about for decades and after all the broken promises, this is a major step forward for this project, which will transform Perth's growing northeastern suburbs and benefit the local and surrounding communities. Now more than ever, big infrastructure projects like Metronet's Morley – Ellenbrook line are imperative to Western Australia's Covid-19 economic recovery as they create a pipeline of work and support thousands of jobs.'