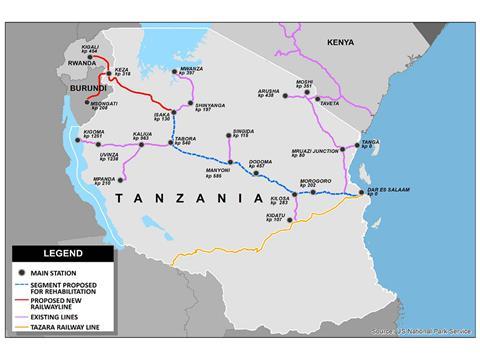 TANZANIA: State railway infrastructure authority Reli Assets Holding Co has awarded Turkish company Yapı Merkezi a US$1·92bn contract to build the 336 km Morogoro – Makutupora 1 435 mm gauge line. This is the second phase of a proposed 2 200 km standard gauge network which would connect Dar es Salaam with Mwanza on Lake Victoria, Kigali in Rwanda and Musongati in Burundi.

Construction of the first 207 km between Dar es Salaam and Morogoro began in May, following a ceremonial launch by President John Magufuli on April 12. This first phase is being built by a joint venture between Yapı Merkezi and Portugal's Mota-Engil, with opening planned for October 2019.

Tendering for the second phase began in November 2016. A total of 15 companies submitted bids, but Reli Assets Holding said only Yapı Merkezi met both the financial and technical requirements. Construction is expected to take 36 months.

The second phase will follow a similar alignment to the existing metre gauge route, and will have eight passenger stations and six freight terminals.