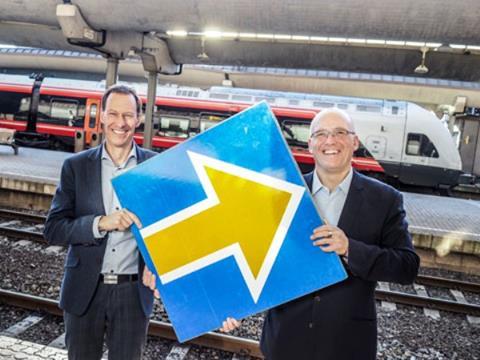 NORWAY: Infrastructure manager Jernbaneverket expects to issue a formal request for proposals for its planned national roll-out of ERTMS within the next few weeks, following government approval of the financing required.
Prequalification has already started for the project, which envisages the introduction of ETCS Level 2 across the entire network by 2030, at an estimated cost of NKr26bn. The Ministry of Transport & Communications' recommendation that JBV be allowed to proceed was endorsed by the government on May 11, paving the way for the funding to be allocated in the revised national budget for 2016.
Put to parliament for formal approval, Proposition 126 S of the budget package gives JBV the powers to proceed with procurement and enter into formal contracts up to the anticipated cost of the whole project. ERTMS Project Manager Eivind Skorstad said this was a 'solid declaration of confidence' from the government, and a 'happy day' for JBV, adding that his team was 'highly motivated' to push ahead with the project.
JBV's intention is to award three contracts, covering the lineside infrastructure, a 'general application' of the onboard equipment and a new traffic management system, which could be installed as early as 2020-21.
The infrastructure manager is leading the procurement of the onboard equipment, although individual train operators would then be expected to sign their own contracts with the selected suppliers for the supply and retrofitting of vehicle-specific systems. The government is making available funding for up to 50% of the cost of onboard equipment, in line with EU regulations.
JBV has invited potential suppliers to come and inspect the various types of rolling stock used in Norway during 2016. This will allow the supply chain to assess the scope and inform their bids to be submitted in 2017.
ETCS Level 2 (Version 2.3.0d) is already being tested on the 80 km Ski – Sarpsborg pilot line southeast of Oslo, which was formally inaugurated in August 2015.,