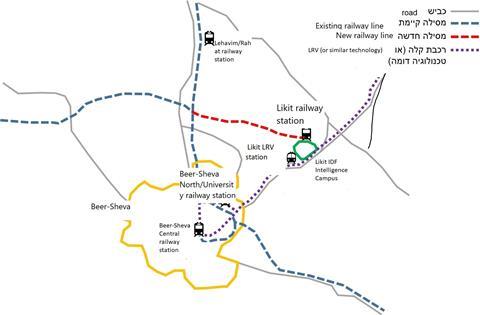 ISRAEL: Plans to construct rail and light rail links to a military intelligence campus which is to be built at Likit near Be'er Sheva have been announced by Minister of Transport & Road Safety Miri Regev.
The campus is expected to open in 2026, with thousands of people travelling to and from the site every day.
The proposed rail links would provide a journey time of no more than 70 min from central Israel, and would also help to encourage people to live in the area as part of the government's policy of encouraging development in the Negev region.
Several transport options had been proposed, but the preferred choice would see a railway built between Likit and the existing network at Goral Junction, north of Be'er Sheva.
A separate project using light rail or similar technology would connect the centre of Be'er Sheva with surrounding communities including Omer, Meitar and Lehavim, as well as the military facility.