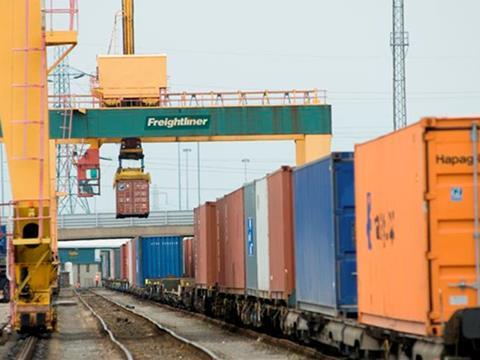 UK: Infrastructure manager Network Rail completed the acquisition of the head leases for 105 sites from three freight operators on October 31, saying this would make the sites 'more readily available to the growing number of rail freight operators and end users, increasing competition and supporting growth'.
The transactions cover 87 leasehold sites acquired from DB Schenker, 15 from Freightliner and three from GB Railfreight. According to Network Rail, the deals are 'self-financing based on current rent rolls, projected rental growth and operational benefits'.
'This represents one of the biggest changes to the rail freight sector in this country in decades and is a bold strategic move by the industry', said Network Rail Freight Director Paul McMahon. 'It will help drive continued rail freight growth, give customers greater transparency and equality in property arrangements, allow Network Rail to make more efficient use of the network and release capital for freight operating companies to invest in their operations.
'Consolidating the ownership and management of our key freight sites puts us in the best possible position to promote a more efficient and effective use of the rail network by freight traffic in coming years', he added. 'It will also enable redundant land to be redeveloped and provide a valuable additional source of revenue for Network Rail'.
NR says that it will not maintain sidings 'identified as inoperable or disused', and 'any subsequent refurbishment, reconfiguration or other steps required for productive use would be instigated either by new rail freight users taking tenure of a site or other new railway operational investment schemes'. Similarly, sidings that are 'currently operable' and leased to a tenant 'will not become part of the Network Rail-operated network'.