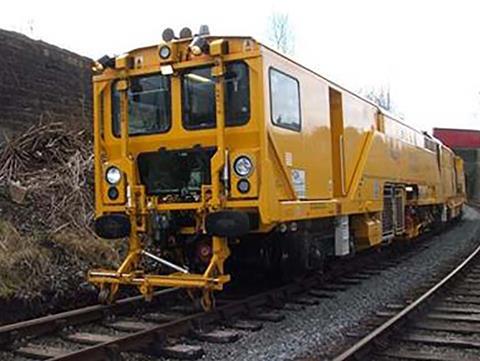 UK: Infrastructure manager Network Rail has appointed Balfour Beatty to operate and maintain of its fleet of Stoneblowers, which pneumatically inject ballast under the sleepers to fill voids and restore track geometry.
The four-year contract is worth more than £40m. It covers a minimum of 2 800 maintenance shifts per year, and there is an option for a one-year extension. At its peak the contract will employ approximately 140 people, including four apprentices and graduates.
Network Rail currently has 14 plain line and three multi-purpose Stoneblowers. Last year it awarded Harsco Rail a contract to supply seven new Multi-Purpose machines to replace the plain line fleet, and Balfour Beatty will support their entry into service from 2020.
'The contract is an exciting one for us as it not only includes the operation and maintenance of the current fleet, but also the introduction of seven new Multi-Purpose machines', said Mark Bullock, Managing Director, Balfour Beatty's rail business, on February 5. 'We are delighted to be operating more plant for Network Rail on a national basis.'
Development of the Stoneblower was begun by British Rail Research, which was seeking an alternative to traditional tamping methods for the restoration of vertical and lateral alignment of the track. Pandrol Jackson (now Harsco Rail) delivered the first production machine to Railtrack in 1995.
Stoneblowers measure the alignment of the existing track, then calculate the lift, slew and stone quantity to be injected under each sleeper to achieve a pre-selected track quality. This is achieved without disturbing the compacted ballast foundation below the sleeper, ensuring that the track is suitable for operation at line speed as soon as it is handed back.