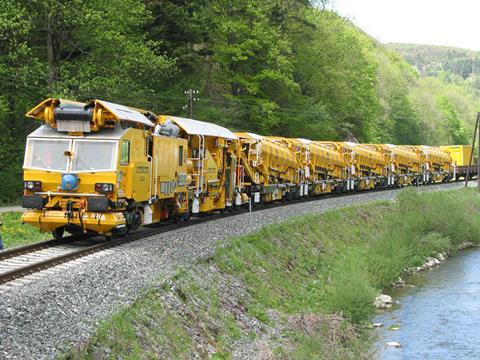 UK: Network Rail announced a £50m order for a Plasser & Theurer ballast cleaning system on February 26, the fifth in its fleet and the first designed to be used on 750 V DC electrified lines with the third rail remaining in place.
Ballast Cleaning System Five is scheduled to be delivered in 2016. It will comprise a RM900 high-output ballast cleaner, ballast power wagon, spoil power wagon, consolidation machine providing in-train tamping with double bank dynamic action and 44 MFS conveyor spoil/ballast wagons. Support plant will comprise two 09-3X dynamic tamper/ stabiliser machines, one third rail compatible 09-2X dynamic tamper/stabiliser, one USP5000 ballast regulator and one third rail compatible ballast regulator.
BCS5 will incorporate state of the art technology to reduce fuel consumption and emissions compared to existing equipment, with measures to reduce workforce exposure to ballast dust including mist-based suppression.
'Network Rail is leading the world, completing mechanised track renewals overnight in short duration access and handing back the railway at higher speeds than attainable with conventional methods', said High Output Project Director Ben Brooks. 'The new equipment allows us to add the third rail DC electrified network to our programme so passengers south of London can start to see the benefits of high output track renewals too.'
The transfer to NR of more than 500 Amey staff who operate the high-output fleet will be completed next month, the largest transfer since the phased insourcing of maintenance activities in 2005. 'The move will give us greater opportunity to drive continuous improvement in both safety and performance on-site', said Brooks. 'It is fundamental to delivering our cost efficiencies and also allows longer term investment in training and development for the high output workforce, our fleet and maintenance facilities.'