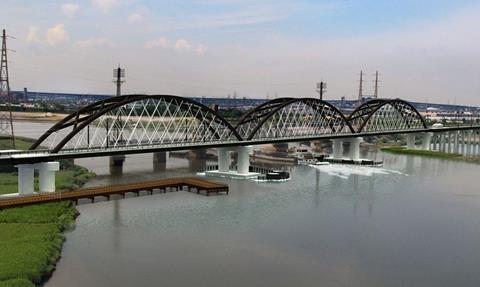 USA: New Jersey Transit has selected a Queens-based joint venture of Skanska and Traylor Bros are to build the new Portal North Bridge over the Hackensack River, replacing a 110 year old swing bridge which forms a bottleneck on Amtrak's Northeast Corridor.
The project is seen as an important initial element in the Gateway Programme to double rail capacity between Newark and New York. The new high level double-track bridge will have a fixed span, around 15 m above the river, allowing marine traffic to pass underneath without interrupting rail services. This is expected to increase capacity and improve reliability on the busiest section of the Northeast Corridor.
The $1·56bn contract announced by New Jersey Governor Phil Murphy in October covers the reconstruction of a 4 km section of line, including new retaining walls, concrete piers and steel bridge spans, as well as the related railway systems, and demolition of the existing bridge. Work is expected to take approximately 5½ years.
The bridge replacement is being funded by the federal Department of Transportation, NJ Transit and Amtrak. The Federal Transit Administration is contributing $766·5m under a Full Funding Grant Agreement approved in January 2021.
Announcement of the FFGA cleared the way for the NJ Transit to launch a two-stage procurement process for the construction contract. Following initial pre-qualification, the agency shortlisted four bidders in May, before conducting a pre-bid conference and Disadvantaged Business Enterprise outreach. Two consortia submitted their final proposals on September 2.
'Few infrastructure projects are as critical to the nation as replacing the aging Portal Bridge', said Murphy. 'NJ Transit is rapidly moving towards beginning the first phase of the largest infrastructure project in the United States. This award will not only bring a bridge that will resolve the long-standing bottlenecks plaguing New Jersey commuters, but will also create well-paying skilled labor jobs in the process.'
'The award of this important construction contract is yet another example of NJ Transit's commitment to advance critical infrastructure projects that will ultimately improve service to our customers', said the state's Transport Commissioner Diane Gutierrez-Scaccetti. 'This project will power the region's economic vitality for generations to come.'
NJ Transit President & CEO Kevin Corbett added that the construction award was 'the single largest in our agency's history', and 'marked the culmination of more than three years of hard work and determination' by the project partners.