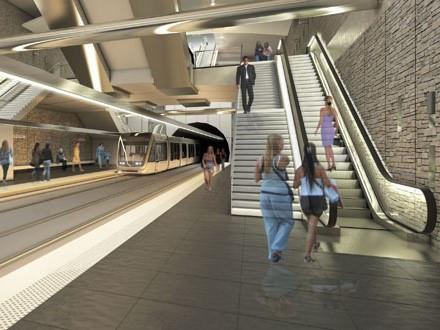 FRANCE: A consortium of Alstom and Colas Rail has been awarded an €11m contract to supply power supply equipment for Line 2 of the Nice tramway, which will use Alstom's SRS ground-based static charging technology.
The firm order includes seven electrical substations, 10 lighting power stations and two intake power stations. There are also options for two additional substations. Alstom will act as principal contractor and project manager, using teams based in Saint-Ouen, Villeurbanne and Nice. Colas Rail teams based in Louveciennes, Cergy Pontoise and Nice will carry out studies, installations and testing.
Line 2 will run for 11⋅3 km from the port in the east to Nice Côte d'Azur Airport in the west, with 20 stops. It is due to open in 2018. A 3·2 km underground section under the city centre is being built, either side of which will be surface sections with no overhead wires. The trams will therefore be equipped with Ecopack supercapacitors that will be recharged at stops using SRS technology.
In October 2015 Alstom was selected for a €91m contract to supply 19 Citadis X05 trams, with 12 years of maintenance and options for up to 18 more trams.