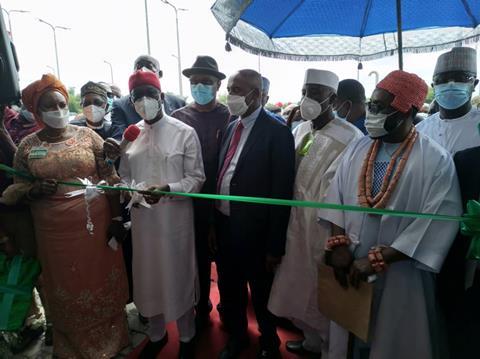 NIGERIA: The 1 435 mm gauge north-south railway linking Itakpe, Ajaokuta and Warri has been formally opened for commercial operation, following an inauguration ceremony at Agbor in Delta state, attended by Transport Minister Rotimi Amaechi and the Governor of Delta Ifeanyi Okowa.
Addressing the opening ceremony by video link, President Muhammadu Buhari said his administration regarded rail transport as a vital backbone to support industrialisation and economic development. He believed that the new Central Railway would become an important link for the country, connecting people from different cultural backgrounds and expanding trade and commerce, 'which will lead to better standards of living for our citizens'. The line is expected to carry around 1 million passengers and 3·5 million tonnes of freight per year, including iron ore from Itakpe for export through Warri port, and to stimulate agricultural development.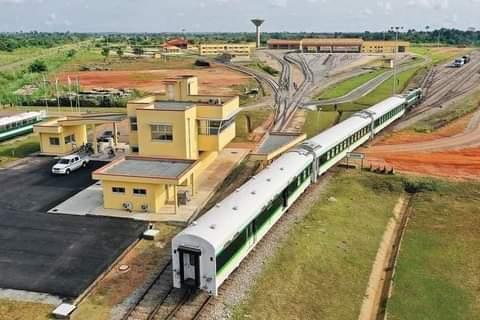 Started in the 1980s to serve the Ajaokuta steelworks, but left unfinished for many years, the 327 km single track line with 10 stations has been completed by China Civil Engineering Construction Corp under a contract awarded in 2017. It was approved for operation in 2019 following trial running with locomotives and rolling stock supplied by Chinese manufacturers. It is the country's second standard gauge railway, following the 187 km Kaduna – Abuja line inaugurated in 2016, which was also built by CCECC.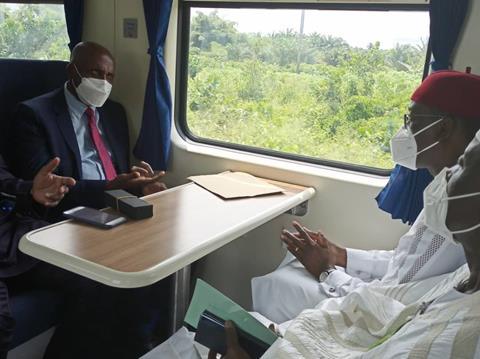 Amaechi said completion of the Central Railway marked 'a step further in the general construction of the Nigerian railway network', painting a vision of three north-south and five east-west corridors. CCECC Managing Director Jiang Yigao commented that 'it is our hope to continue to partner with the government in the massive efforts to link all parts of the country to the national railway grid'.
Lagos – Ibadan next
Visiting Lagos on October 17, Amaechi announced that the 156 km Lagos – Ibadan standard gauge railway now nearing completion would be commissioned by President Buhari in January 2021. The line had previously been expected to open in April 2020, but work has been delayed by the coronavirus pandemic.
Efforts are being made to complete the 10 stations by December, and the minister urged the contractors to complete a number of road and footbridges where the line passes through densely populated areas. NRC Chairman Alhaji Ibrahim Musa explained that the railway had agreed with the Lagos Metropolitan Area Transport Authority where the bridges should be constructed.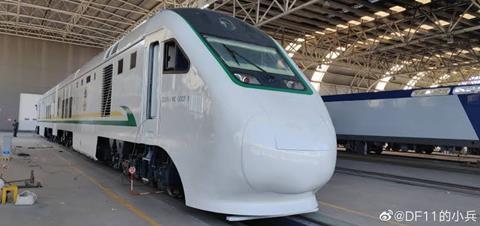 NRC began taking delivery of rolling stock for the line in August, with the delivery of 24 passenger coaches and an eight-car DMU. Managing Director Fidet Okhiria said the railway hoped to start trial services in November in a bid to reduce road traffic over the Christmas period. This may be limited to the Yaba – Ibadan section pending completion of the rest of the line. An initial service of 16 trains per day is envisaged once the route is fully operational.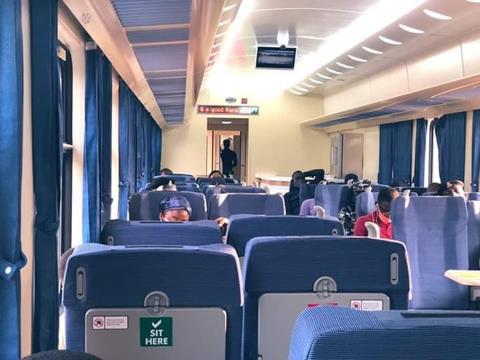 China has provided soft loans totalling US$1·6bn for the Lagos – Ibadan project, and Amaechi confirmed that the government was negotiating for a further US$5·3bn to fund ongoing railway projects across the country. An agreement is expected to be finalised by the end of October. Buhari has approved a US$318m local contribution as part of Nigeria's 15% share of the funding for the Ibadan – Kano line, on which work was scheduled to begin earlier this year.
As part of the wider vision, Amaechi is seeking cabinet approval to start work on new lines linking Port Harcourt with Lagos and Maiduguri, for which contracts were signed with Chinese partners as long ago as 2014.