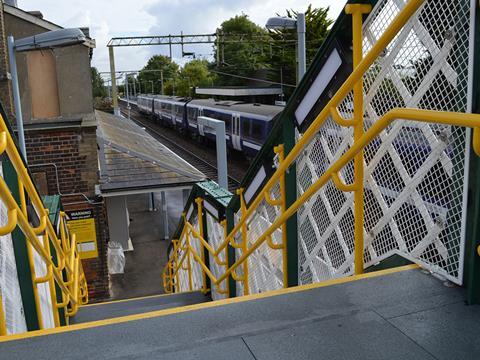 UK: Architectural hardware supplier Laidlaw has installed 180 m of its 40 mm diameter Nylon Line handrail on a footbridge at Great Bentley station in Essex as part of a refurbishment programme.
Unlike coated products, Nylon Line has solid colour throughout the 4 mm thick polyamide sleeve fitted over the galvanised steel core. According to Laidlaw, the sleeve's low thermal conductivity means it is 68 times warmer to the touch than stainless steel and 950 times warmer than aluminium.
Nylon Line is fracture resistant, has high thermal stability and is resistant to most solvents, chemicals, cleansing agents and disinfectants, and has no electrostatic charge. Fixing points can be positioned to avoid light fittings, cabling, welds and rivets.
There are a number of wall-fixing bracket options with both straight supports and 90° bends, while the handrail terminations can return to the wall with a flat end cover cap or with a 90° bend return connected to the wall, with or without a rose fixing.